Create a Beautiful Lawn with California Sod
Whether you have a brand new house or are looking to re-landscape and update your home, installing California sod is a quick and easy way to create a beautiful lawn and almost instantly increase the value of your home. West Coast Turf makes it easy to find the right sod for your lawn with a large choice of sod varieties, installation and watering guides, and expert customer service.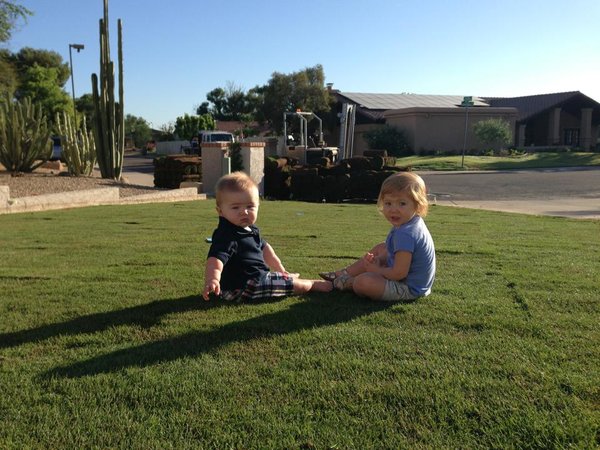 Sod Instead of Seed
There are many benefits to choosing to install sod instead of starting with seed. The most popular reason to use sod is you will have an instantly beautiful, lush green lawn. Other benefits of sod include:  
Sod is instant
Seed is often lost to wind and erosion
Seeding your lawn requires more water to establish than sod
Sod can be installed any time of year, especially in California
Seed takes longer to germinate than sod
Seeded lawns take a long time to establish into a mature and hearty lawn and often can't be used for months
Sodded lawns are generally ready for "wear and tear" within a few weeks
Sod Delivery
At West Coast Turf, our mature healthy turfgrass sod is harvested at night for daily delivery throughout California to ensure the freshest product. It's important to install your sod as soon as possible after delivery for the best results. If you cannot plant on the same day as delivery, keep the sod in a shady area and cover with damp burlap sacking or sprinkle to keep moist.
Sod Installation
Sod is relatively easy to install and preparing the soil is a very important step. Be sure to remove large rocks and fertilize if necessary. You make choose to slope your lawn a bit to help with drainage and also be sure that your irrigation is ready before delivery. We recommend our California Sod Installation Guide, which provides detailed information including how to roll out your sod.
Watering Sod
It's crucial to water your sod within 30 minutes of installation to help it bind with the soil below. Newly planted sod has different watering requirements than established sod and watering schedules will also vary depending on the season and your climate. Use our Watering Guidelines for Healthy Grass to help you determine the best schedule for your new lawn. Surprisingly, you won't need to water your lawn every day. It's important to follow the watering tips to ensure a deep root structure to establish a hearty and healthy lawn.
As you plan your landscape design, look to West Coast Turf to provide the best choices for California sod. West Coast Turf has been developing and growing turfgrass for more than 25 years; a true innovator in the business. We provide more than 30 varieties of sod, stolons and other turfgrass products to ensure the right grass for your needs and climate. We have offices throughout California, or call us directly at 888-893-TURF or order sod online at www.westcoastturf.com