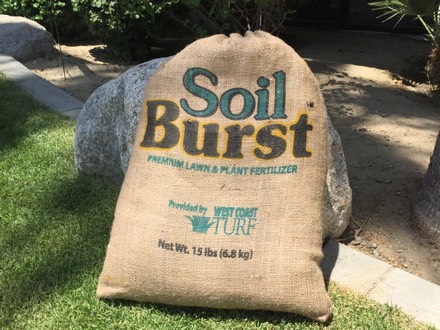 Overview
Soil Burst 4-4-2: PREMIUM PLANT FOOD PRE-PLANT STARTER and Purchase with sod and receive 20% off and FREE shipping*!
Where To Use

Turfgrass pre-plant. Apply on soil prior to installing turf, great for fall/spring transition, flowers, vegetables, trees, and shrubs year round.

Available Sizes

15 lb. bag (treats 700-1000 sq. ft.)
*Note: $15 shipping cost and 20% fertilizer discount will be deducted from your final credit card charge when purchased with sod.
Features & Benefits
Organic pre-plant starter fertilizer with essential nutrients
Use for fall/spring turfgrass transition
Granular
Natural slow release nitrogen fertilizer source
Promotes strong roots and conserves water
Revitalizes soil structure and plant immune system