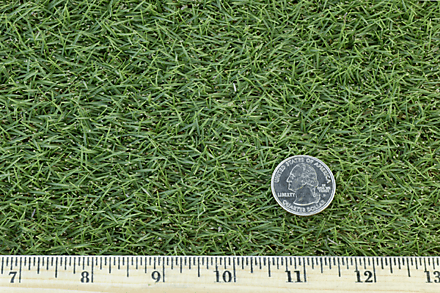 Overview
FOR USE ON SPORTS FIELDS AND GOLF COURSES

Click to Download PDF Spec Sheet

Accepting of shade, heat, drought, saline soils, and close mowing, De Anza zoysia also has the blue-green color of bluegrass, and fine, firm texture.  It offers the fastest coverage, and greatest wear tolerance of West Coast Turf's zoysiagrasses.  De Anza requires less maintenance and stays green longer into the fall than other types of warm-season grasses.
Features & Benefits
Color
Texture
Performance

Stiff, upright leaf blades offers superior wear tolerance.
Provides a low-growing, dense stand of turf without the thatch associated with other warm-season turfgrasses.
Dense growth habit provides a weed-free, carpet-like cushion.
Spreads rapidly for quick establishment and recovery from injury.
Withstands heat, drought, shade, and saline water and soils.
Requires up to one-third less water, fertilizer, and herbicides than other warm- season grasses.
Needs up to one-third less mowing and edging than other warm season grasses.
Retains blue-green color longer into the fall than Emerald, Belair, or Meyer.
Holds up to close mowing

Climate

Thrives in warm to hot climates USDA zones 7-11.

Shade Tolerance

Moderately shade tolerant, requires full sun most of the day.


Mowing

½"-3"
Reel mower preferred.



Options

Regular sod: Comes in 16" x 72" rolls with ½" of soil.  Each weighs approximately 45 lbs.  Great for normal conditions.
Big-roll sod: is 42" x 105', allowing large areas to be sodded quickly and efficiently.  Great for large sports fields, parks, and cemeteries.
Thick-cut sod: has up to 2" soil base that provides anchorage for the sod until its roots knit to the subsoil.  Ideal for renovating a sports field that needs to be put back in play within a few days.