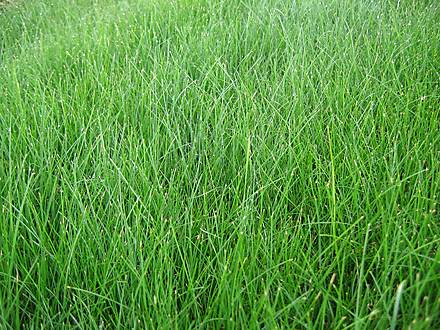 Overview
FOR USE ON GOLF COURSES, LANDSCAPES, and UNMAINTAINED AREAS in SOUTHERN CALIFORNIA.
Click to Download PDF Spec Sheet

West Coast Turf's Hillside Fine Fescue is the ultimate low maintenance, cool season turfgrass.  This fine fescue is a three-way mix of Florentine GT Strong Creeping Red Fescue, Seabreeze GT Slender Creeping Red Fescue, and Tiffany Chewings Fescue.

Florentine has strong rhizomes to provide a spreading compact growth habit that will quickly fill in weak or damaged areas.  It also has improved salt tolerance as compared to other strong creeping fescues on the market.

Seabreeze has a bright green color with great density, aggressive growth, and good color during winter months.  It also has excellent salt tolerance compared to most fine fescues.

Tiffany is the most competitive of the three species. With a bright medium-green color, it tillers rapidly providing strong springtime turf quality.

When mixed together, these three fine-leafed fescues provide a dense, low growing, fine textured turf with low fertility requirements.  In cooler, more temperate climates, ,fine fescues perform well in full sun to moderately heavy shade.  In warmer transition climates, they perform best when shaded from the heat of the afternoon sun.

Hillside fine fescue can endure a broad range of mowing heights.  If left un-mowed, it takes on a beautiful natural look.
Features & Benefits
Color
Texture

The finest texture of all cool season turfgrasses.

Performance

Slower growing and less invasive than other cool-season grasses.
Slow growth means less fertilizer and mowing is required.
Provides a native or natural look with infrequent or no mowing.
Can be used in un-maintained areas as a very low or no-maintenance grass.
Can survive on less water and is less prone to dormancy during drought.
Fares well under trees and won't compete for water and nutrients.

Climate

Thrives in cool to warm climates USDA zones 3-8.

Shade Tolerance
Mowing

2" to un-mowed.
Sharp rotary mower.


Options

Regular sod: Comes in 16" x 72" rolls with ½" of soil.  Each weighs approximately 45 lbs.  Great for normal conditions.
Big-roll sod: is 42" x 105', allowing large areas to be sodded quickly and efficiently.  Great for large sports fields, parks, and cemeteries.