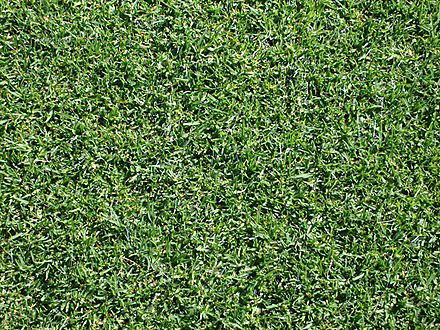 Overview
FOR USE ON LOW MAINTENANCE AREAS ON GOLF COURSES, and EROSION CONTROL.
Click to Download PDF Spec Sheet

Our improved kikuyugrass is a low growing, warm season perennial grass native to tropical Africa.  It spreads vigorously by both rhizomes and stolons.  The stems are covered with fine hairs.  Kikuyu exhibits exceptional drought, disease, insect, and wear tolerance with rapid recovery rate.  It exhibits good reception to winter temperatures, especially along the coast.  When compared to bermudagrass, kikuyu exhibits much better winter color and seldom goes completely dormant, eliminating the need to overseed.  It also has a quicker green-up rate than bermuda.

Because of its invasive characteristics, kikuyugrass is listed as a Federal Noxious Weed, however it is sold and produced in California, Arizona, and Texas with certain restrictions.

In many cases, particularly on golf courses, common kikuyu has been a dominant turfgrass species.  Rather than implement an eradication program, turf managers have developed maintenance programs to encourage kikuyu development.  

Features & Benefits
Color
Texture
Performance

Drought, disease, insect, and wear tolerant.
Rapid recovery rate.
Tolerant to winter temperatures.
Good winter color.
Quicker green-up rate than bermudagrass.
Low growing.
Produces quick cover.
Low maintenance.
Drought tolerant along coast.
Moderate shade tolerance.

Climate

Thrives in warm to hot climates USDA zones 7-11.

Shade Tolerance

Moderate.
More tolerant of shade in inland valleys than along the coast.

Mowing

1" to 3" with reel at 1" and rotary at 3".

Options

Regular sod: 16" x 72" long rolls with ½" of soil.  Weighs approximately 45 lbs.  Ideal for normal situations.
Big Roll sod: 42" x 105' long with ½" of soil.  Weighs approximately 2000 lbs.  Great for large areas.
Thick-cut sod: has up to a 2" soil base that provides anchorage for the sod until the roots knit to the subsoil.  Ideal for renovating a sports field that needs to be back in play within a few days.