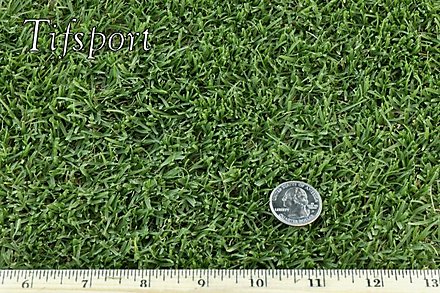 Overview
FOR USE ON SPORTS FIELDS, LAWNS, AND GOLF COURSE TEES, FAIRWAYS, and ROUGHS.
Click to Download PDF Spec Sheet

Tift94 (formerly known as TifSport) was developed by USDA/ARS geneticist Dr. Wayne Hanna at the University of Georgia Coastal Plains Experiment Station in Tifton, GA.  This is the same breeding program initiated by Dr. Glenn Burton, the program responsible for Tifgreen, Tifdwarf, Tifway 419, Tifway II, and TifEagle.


Dr. Hanna and his team set out to develop a new bermuda with superior pest and disease resistance, and greater cold tolerance than other bermudas.  Tift 94 is the result.  Like all our hybrid bermudas, Tift 94 is a drought tolerant grass, and requires very little water compared to cool season grasses like fescue.

Features & Benefits
Color

Beautiful dark emerald green (darker than Tifway 419).

Texture
Performance

Better cold tolerance than Tifway 419.

Highly pest resistant.
Superior drought tolerance.
Stays greener longer than Tifway 419, and recovers faster.
Impressive root system.  Good lateral stolon growth and deep, complex vertical root structure.
Excellent traffic tolerance.
Superior density—1 point greater than Tifway 419 on a 1-10 scale.
Can tolerate closer mowing heights than Tifway 419.
Upright growth habit gives golf ball a good lie.

Climate

Thrives in warm to hot climates USDA zones 7-11.

Shade Tolerance

Not shade tolerant, requires full sun all day.

Mowing

¼" – 1 ½"
Reel mower preferred.


Options

Regular sod: 16" x 72" long rolls with ½" of soil.
Weighs approximately 45 lbs.  Ideal for normal situations.
Big Roll sod: 42" x 105' long with ½" of soil.
Weighs approximately 2000 lbs.  Great for large areas.
Thick-cut sod: has up to a 2" soil base that provides anchorage for the sod until the roots knit to the subsoil.  Ideal for renovating a sports field that needs to be back in play within a few days.
Overseeded sod: Perfect for fall season installation.
Stolons: Sod is shredded and broadcast like seed on a prepared bed.  Installation is easy and inexpensive.  Available May-September.