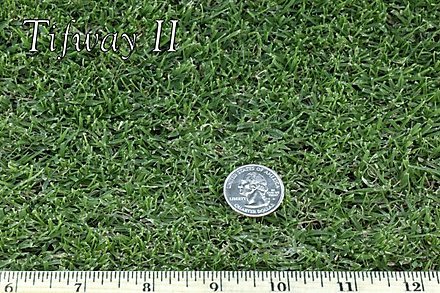 Overview
OVERSEEDED WITH PERENNIAL RYE FOR WINTER GREEN COLOR!
A GREAT CHOICE FOR PROFESSIONAL SPORTS FIELDS, LANDSCAPES, PARKS, PLAYGROUNDS, AND GOLF COURSE TEES, FAIRWAYS, and ROUGHS.

Download PDF Spec Sheet

West Coast Turf's Tifway II bermuda has the shortest winter dormancy of all hybrid bermudas, and is able to stay green longer into the Fall, and greens up earlier in the Spring.  With its great durability, beautiful dark-green color, and recuperative abilities, Tifway II is a top performer on golf courses and sports fields, and is the best bermudagrass for coastal areas of California.    Like all our hybrid bermudas, Tifway II is a drought tolerant grass, and requires little water compared to cool season grasses like fescue.
Features & Benefits
Color
Texture

Medium-fine, slightly coarser than Tifway 419

Performance

Top ranked in overall quality studies of bermudagrass cultivars conducted by the National Turfgrass Evaluation Program

Resistant to sting, root knot, and ring nematodes

Shortest dormancy period of all bermudas

Recovers quickly from injury with vigorous, dense growth habit

Tolerant of heat, poor water quality, heavy foot traffic, and drought

Stiff leaf blades creates excellent lie for golf balls

Climate

Thrives in warm to hot climates USDA zones 7-11

Shade Tolerance

Not shade tolerant--requires full sun

Mowing


Options

Regular sod: 16" x 72" long rolls with ½" of soil.  Weighs approximately 45 lbs.  Ideal for normal situations.

Big Roll sod: 42" x 105' long with ½" of soil.  Weighs approximately 2000 lbs.  Great for large areas.

Thick-cut sod: has up to a 2" soil base that provides anchorage for the sod until the roots knit to the subsoil.  Ideal for renovating a sports field that needs to be back in play within a few days.

Overseeded sod: Perfect for fall season installation.

Stolons: Sod is shredded and broadcast like seed on a prepared bed.  Installation is easy and inexpensive.  Available May-September.